From not knowing anything about weddings to planning a Surprise Bridal Shower, I have enjoyed the past months of preparing for my best friend's wedding.
I couldn't believe how emotionally stirring weddings could be until I witnessed it with my own eyes. It's an overwhelming experience to see the joy in two people after they have been through so many things.
I have known Sarah since I was 8 years old. I just moved to Bahrain, and I needed a friend then. She's one of those friends I've had since the beginning.
I met Jeff when I was 21 years old. I had to meet the man my best friend was always talking about. I told him that if he ever hurt Sarah, I will find him… and hurt him as well.
But Jeff is a kind, humble man and there's no one else I'd want for my sweet, loving friend. I became the number 1 fan of their love team.
I knew and I felt that this couple has God's blessings as they overcame life's challenges together. I witnessed their love for each other grow mature as they accepted the other's imperfections and dealt with conflicts. I saw their unified passion to reach out to the deaf in different places, creating a ministry that gave deaf people a loving community where they belong. The future ahead of them will not be without trials, but it will be full of love.
Together, they are an inspiration to their families, friends, church, and ministry. I pray that they keep holding on to God as they already have been from the beginning.
During my Maid of Honor toast, I was so nervous that my only advise to the couple was to keep God at the center of their relationship and remember this scripture to keep their marriage secure.
1 Corinthians 13:4-7
 "Love is patient, love is kind. It does not envy, it does not boast, it is not proud.  It does not dishonor others, it is not self-seeking, it is not easily angered, it keeps no record of wrongs.  Love does not delight in evil but rejoices with the truth. It always protects, always trusts, always hopes, always perseveres."
Here are my favorite parts of the wedding:
When the parents of the bride led her to the groom.
2. "You may kiss the bride.." (but the shy groom kissed her forehead, and everyone had to urge them both for a liplock)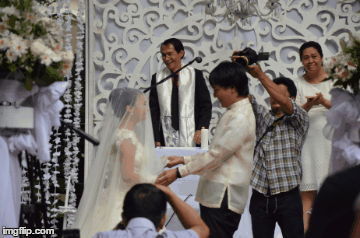 This slideshow requires JavaScript.